DIOR DIORSHOW MASCARA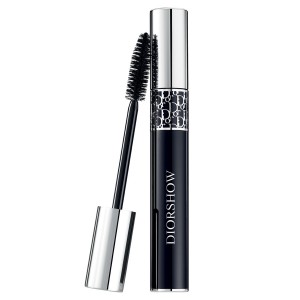 DURABILITY: It is a long-lasting cosmetic, it does not stain the eyelids, does not flake and stays on eyelashes even if rubbed. On the other hand, the more layers of the product applied, the less durable it becomes. What is more, the mascara may stick lashes together and leave clumps on these.
BRUSH: Regardless the mascara type, the brushes have extremely dense bristle. There are wands that are able to curl, lengthen or separate lashes. Moreover, shape of the brush is connected with the properties of mascara's, for example, curved and adjusted to the eyelid, straight with smaller or bigger spaces between bristle.
APPLICATION: It depends on the brush's shape. Generally, application does not cause bigger problems. The brush reaches all lashes, even the one being hard to reach. Certainly, one should place the brush on eyelash base and mascara these evenly.
EFFECTS: Determined by the type of Diorshow Mascara, the product either curls or lengthens lashes. Unfortunately, it may stick lashes together and leave clumps. Natural effect can be achieved by applying a single layer of the mascara and separating the lashes using an eyelash comb or clean wand of other mascara.
MASCARA REMOVAL: Waterproof mascaras have to be removed with a dual-action lotion, whereas, the regular cosmetics can be removed with a typical makeup removing product. When it comes to the colour versions of the mascara, these can be removed with any of the above-mentioned products.
Effectiveness

Non-allergenic

Safety

Popularity

Customer reviews

Opinions about the producer