GUERLAIN CILS D'ENFER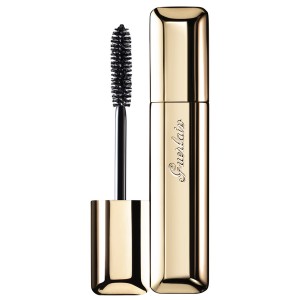 DURABILITY: It can be stated that Guerlain mascara is durable. It does not stick lashes together and is flake-proof. Nevertheless, the cosmetic may stain eyelids at high temperatures since it contains oily substances responsible for making the product a little bit watery.
BRUSH: The brush is composed of short and densely arranged bristle, placed at an angle. The bristle grabs single lashes, separating these and removing the excess of sebum. If the brush is moved unskillfully, eyelashes may curve awkwardly.
APPLICATION: Dense bristle covers lashes evenly. The tip of the brush is adjusted to cover tips of upper lashes and lower eyelashes all along their length. While coating left eye, hold the applicator in the right hand and while coating right eye, hold the wand in the left hand.
EFFECTS: The mascara is able to curl the lashes nicely, lengthens it delicately and makes these ticker. One receives makeup – no makeup effect if applies a single coating. Additionally, Guerlain Cils D'enfer contains caring properties.
MASCARA REMOVAL: If it is not the waterproof version of the cosmetic, you can cleanse it with any ordinary cosmetic lotion. Both, black and violet mascara can be removed with the same products. A dual-action lotion usage is not necessary.
Effectiveness

Non-allergenic

Safety

Popularity

Customer reviews

Opinions about the producer