MAC MINERALIZE MULTI-EFFECT LASH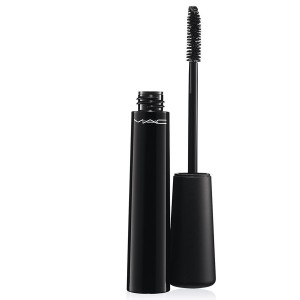 DURABILITY: MAC Mineralize Multi-Effect Lash mascara does not stick eyelashes together and holds long on these, however, at the end of the day, one can notice small mascara flakes on the cheeks. Additionally, one can experience dark marks around eyes, also known as panda eye effect. Fortunately, all concealers, makeup foundations and powders help with eliminating this unwanted stains from the face easily.
BRUSH: The brush is composed of densely arranged bristle that, on one hand, lengthens and volumes lashes but, on the other hand, such set of bristle leads to overloading mascara  applicator with the cosmetic. To avoid putting on the lashes too dense layers of the product, you can wipe the brush over the edge of the mascara's bottle, and the makeup performance will become less troublesome. Remember, while doing so, you waste some part of the cosmetic and the dried-our residues of the product may stick to the wand or get into the bottle.
EFFECTS: Appropriately mascaraed eyelashes seem to be longer, curled and thicker. Sometimes, it happens that the mascara clings the lashes and creates clumps. For that reason, it is advisable to isolate lashes from each other with a special eyelash separating accessory and comb out the bad-looking clumps.
MASCARA REMOVAL: This mascara can be removed with the aid of a cosmetic lotion. It is also suggested to use a dual-action lotion. The second cosmetic deals also with a waterproof version of the mascara.
Effectiveness

Non-allergenic

Safety

Popularity

Customer reviews

Opinions about the producer