MAYBELLINE GREAT LASH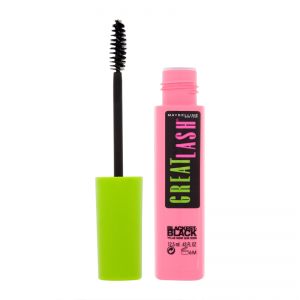 DURABILITY: The mascara is not long-lasting, eyelashes covered with the cosmetic stamp eyelids and the coating is brittle. The reason for this may be explained by the liquid consistency of the product. Only single coating can prevent our eyelids from getting stained, however, our lashes will not be so defined.
BRUSH: Dependable on product's version, and there are four of them, the brush can be either straight or curved. Nevertheless, the one thing that connects the brushes is the dense bristle coating eyelashes precisely. The fiber of some brushes is of various length, the shortest are for mascara application and the longest ones for separating.
APPLICATION: It is suggested to apply the mascara with zigzag motion in order to avoid clumps formation. Unfortunately, it takes long time for the mascara to dry out on eyelashes. If you would like to escape from stuck lashes, comb the eyelashes with a special applicator right after applying the last coating of the mascara.
EFFECTS: The cosmetic makes eyelashes darker, lengthens these and improves the volume. What is more, lashes get curled after three coatings. If we use the brush skilfully, we will avoid clumps and stuck lashes.
MASCARA REMOVAL: The manner of cleansing lashes does not vary according to the mascara applied. All cosmetics can be removed with warm water, a cosmetic lotion, or a dual-action lotion. When it comes to the waterproof version, it is necessary to rub eyes a few times. Otherwise, the cosmetic may be difficult to be removed completely. Undoubtedly, in such a case, one can expect redden eyelids.
Effectiveness

Non-allergenic

Safety

Popularity

Customer reviews

Opinions about the producer