RIMMEL LASH ACCELERATOR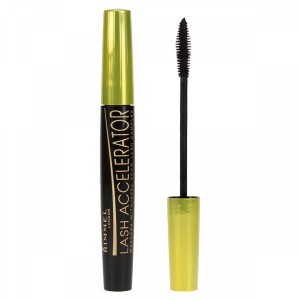 DURABILITY: Mascara Rimmel Lash Accelerator tends to fleck and leaves stains on eyelids fairly quickly. When applied, one has to wait long to let the mascara dry out on lashes. For that reason, it is not advisable to apply several layers of the cosmetic.
BRUSH: It gets narrower on tip of the wand, due to which, it is easy to manoeuvre it in order to coat the tiny lashes located in the inner corners of the eyelids. The bristle is not densely arranged, which is why, the brush separates lashes decently. Before application, one can remove the excess of the mascara gathered on the wand by rubbing it against other, clean mascara wand.
APPLICATION: It is not troublesome, however, it is preferable to have an experience in mascaraing eyes with similar type of brush provided by Rimmel. As mentioned before, due to the wide spacing between bristle, it is easier to get lashes separated. On the other hand, the gaps facilitate gathering too much of the product on the mascara wand.
EFFECTS: Mascara lengthens, curls and provides natural effect if one layer of the product applied. In a case, one put more layers of the cosmetic, they may expect clumps. Obviously, the makeup may be improved by combing lashes with a special accessory.
MASCARA REMOVAL: A black version of the cosmetic can be removed with an ordinary makeup removing lotion, but when it comes to the colour ones, it is suggested to use dual-action liquids. In both cases, it is enough just to press a cotton pad, with a cosmetic, towards the eye and push it a little bit. As several seconds pass, the mascara is expected to be removed.
Effectiveness

Non-allergenic

Safety

Popularity

Customer reviews

Opinions about the producer