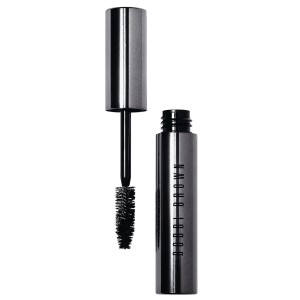 DURABILITY: No stains and flecks are noticeable when Bobbi Brown Party Mascara worn. Unfortunately, people having dropping eyelids may encounter a problem with application. The brush is short, therefore, it is fairly probable to leave some stains in the outer corners of the eyes. After two or three months since the opening, the content of the bottle dries out. As a consequence, try to consume the mascara as soon as possible.
BRUSH: It is designed of short and equal bristle. Its shape is not adjusted to cover all lashes at once, therefore, it is necessary to reapply the mascara a few times. On the other hand, the tapered applicator enables coating the lashes that are hard to reach.
EFFECTS: After applying a single coat of the mascara, eyelashes become longer, curled and darkened. The brush separates lashes, giving these at the same time natural look. Regrettably, when additional layers applied, lashes become gradually clumped together.
MASCARA REMOVAL: Bobbi Brown Party Mascara is removed without difficulties. We can do it with either makeup-removing tissues or a micellar lotion. Certainly, the more layers of mascara applied, the longer it takes to remove the product.