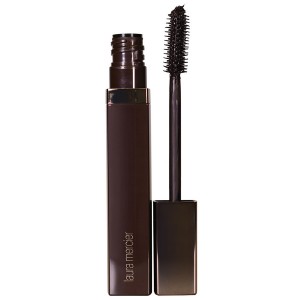 DURABILITY: Laura Mercier Extra Lash Sculpting Mascara leaves lashes clumped together. Moreover, it tends to flack and stain eyelids after several hours of wearing.
BRUSH: A rubber applicator with short bristle between which the cosmetic gathers. The bristle itself is arranged in four rows placed all over the brush. The distance between single bristle is fairly wide.
APPLICATION: The mascara should be put on lashes with the zigzag motion. Obviously, the procedure can be repeated if necessary. Unfortunately, the brush collects too much of the cosmetic which makes the application troublesome. Basically, the cosmetic should be put on lashes by using one out of four rows of bristle. Under this circumstance, lashes should not be clumped together.
EFFECTS: Clumped lashes do not look appealing, these are unnatural and artificially emphasized. What is more, if several layers applied, tips of the eyelashes are smeared with black lumps. It is suggested to use an eyelash comb to separate lashes and obtain more natural effect.
MASCARA REMOVAL: Take a cotton pad and distribute a makeup lotion over it. Then, press the cotton pad toward the eye and wait till the makeup gets melted. In a case of waterproof mascara, use a dual-action liquid. Such a makeup removal requires more time and patience.