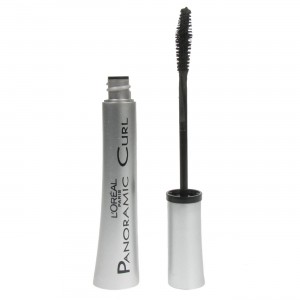 DURABILITY: L'Oréal Panoramic Curl Mascara durability might be better because it flecks and smudges after a few hours of wearing. In fact, plenty of the product's particles gather all around eyes. Moreover, it is not recommended to use the mascara during the summer because it may run down the face at high temperatures. For the same reason, it is advisable to remove the mascara before entering a sauna or a bath.
BRUSH: It is slightly curved which eases the mascaraing. The brush is divided into two sections, one with short and densely arranged bristle, the second with slightly longer, and wider placed ones. Fortunately, the applicator does not gather galore amount of cosmetic, due to which, lashes are not clumped together.
APPLICATION: It is not vexing. The brush is adjusted to eyelids shape, thanks to which, during a single brush sweep, all lashes are covered with the mascara.
EFFECTS: The mascara should provide curl. The truth is, the longer lashes are hard to be stylized in such a way, simply because their length does not allow to do it. What is more, the effect cannot be fully achieved on short lashes either, as the result is barely noticeable.
MASCARA REMOVAL: The mascara can be removed with a regular cosmetic lotion or a micellar lotion. Certainly, waterproof version of the mascara has to be removed with a dual-action lotion. Remember, it is forbidden to rub the eyelids. Instead, press a cotton pad gently toward the eyelashes and wait till the makeup relocates itself from the lashes onto the cotton pad.